Minot Vistas
Welcome to Minot Vistas Legion Baseball 2002 ! A new year and a new team! We're hoping to have an excitement filled year with lots of great baseball. Follow our team through the season and be sure to come out to beautiful Corbett Field to watch the action.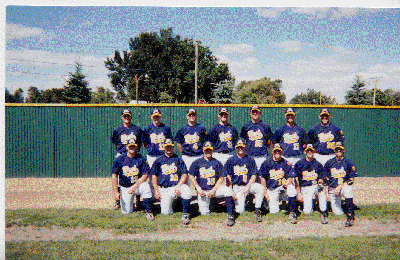 The Vistas 2001 team had an incredible year with a record of 51 wins and 13 losses. They made it to the regionals and lost in their final game to Omaha 6-0. Phil Shirek set the national strikeout record, striking out 20 batters from LaCrosse, Wisconsin, during the regional sem-final game.

















American Legion Code of Sportsmanship

I will:

Keep the Rules; Keep Faith with my teammates; Keep my temper; Keep myself fit; Keep a Stout heart in defeat; Keep my pride under in victory; Keep a sound soul; A clean mind; And a Healthy body


Many Legion Coaches wish to know if it is proper to place a Flag Patch onto a team's uniform. The National Americanism Commission has made the interpretation that it is permissible to place a Flag Patch onto the team's uniform. The Flag Code does not address the issue where a patch should be worn, however if a flag patch is sewn onto a Legion baseball uniform, the field of blue should be to the upper left. Therefore coaches should use common sense. To learn more about proper flag etiquette, please visit the American Legion Web Site.